Assalamualaikum .. Annyeong :)
" I'm a girl, But i'm a girl who like girls "
Hello!
Dah terlampau pulak aq teruja dengan Dunia korea ..
Jom kita pegi seberang utara pulak ..
Supanart Jittaleela aka Tina Jittaleela
adalah nama sebenar gadis aka jejaka tersebut..
aaa haaakxx ..
tajuk entri kali ne jauh dari sudut pemikiran..
hahahaha .. is He aka She cute ..???
blank..???
hahahahhah .. tak laa sebenarnyaa kan..
Tawu daa mesti dah ramai bloggers or readers2
paham apa yg saya nak smpai kan..
Mesti ada di antara korang yg dah tonton
movie "Yes or No 1 & 2" kan .. ?????
Yup, tetiba pulak aq teringin mok buat entri ne kan ..
Tak pasal2 pulak, sebab bnyak orang sebok
ceta pasal movie ne d laman2 sosial..
so belek punya belek .. jumpa pon dya!
She's a Tomboy .. She's so handsome!
seriously handsome!
:))
She is totally look alike Shila Hamzah!
sama habis! .. mesti ada yg perasan ato tak perasan ne kan ..??
Haahaha .. exactly look alike laa.. Tak sangka jumpa jugak
kembar Kak Shila Hamzah ..
Aq tak mok cakap pnjang lebar lagi ..
so here i put some details about this handsome girl! :)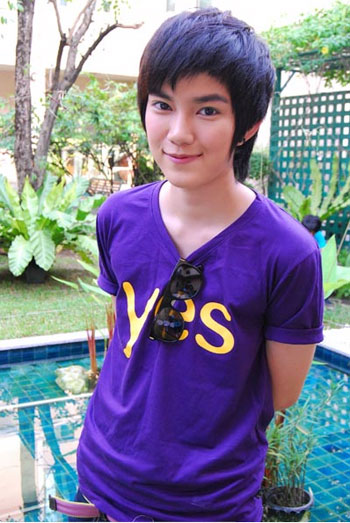 Real name
:
Supanart Jittaleela
Also known as
: Tina Jittaleela
Gender
: Female
Birthday
: February 12 1991
Hometown
: Bangkok (Thailand)
Personal relationship status
: Single
Brothers and sisters
: Nichapa Jittaleela, Podchara Jittaleela, Tatae Jittaleela
Studying at universities
: Chiang Mai University
High school
: SatriwithayaSchool
Like the dress brand
: Marc Jacobs
Favourite singer
: Mark Ronson Samantha Ronson
Yes! we share the same year of birthday.
But she was old 7 months than me.
hahahaha .. Dya popular pon menerusi
movie hebatnya berlakon sebagai
seorang Tomboy ..
Memang padan dan memang sesuai!
She so handsome!
This is short synopsis about that movie ..
Synopsis:
Yes or No 2 is the sequel to Yes or No, the romance between Pie and Kim, two girls who fall in love with each other. In Yes or No 2, Pie and Kim have been in a relationship for three years, but an internship during their fourth year separates them to stay in different places for a while. However, their long distance love will prove their heart.
Release Date:
August 16, 2012
Actors:

Sucharat Manaying
Supanart Jittaleela

Director:

Sarasawadee Wongsompetch
She so handsome!!!! awww :333